Okay, the long awaited post about how I do our menu planning and the binder that I put together! :o)
For years, this has always been a sore spot for me. I was never one growing up that thoroughly enjoyed being in the kitchen cooking and so this was an area that I was determined to change! I always knew it was something that needed to be done (as the family does need to eat!! :o), but not something that I thoroughly enjoyed…until the last couple of months! Not only did I spend some time asking Yhwh to help me learn to thoroughly enjoy cooking meals that were not only nutritious, but also meals that my family and I thoroughly enjoyed eating! I am thrilled to say, He has thoroughly answered my prayers!! :o)
The first way He answered it was, in our friends sharing an amazing app with me, called AnyList. This app, although is only currently for the Iphone, you can get it for any pc, mac, etc, and simply use it on your computer. I can not tell you how this app has so richly blessed my life!!! It allows you to download recipes from the web right into the app. Others with the app can share recipes with each other, it allows you to print or email recipes to others, it has a calendar where you can add the recipes right into each day of the week, to see at a glance (as well as print out!), and last, but certainly not least, it has a list where you can add things to your shopping list! With this shopping list, you can go right into the recipe and click the circle next to each one, and it will drop it into the shopping list, so you know which items you need for each recipe!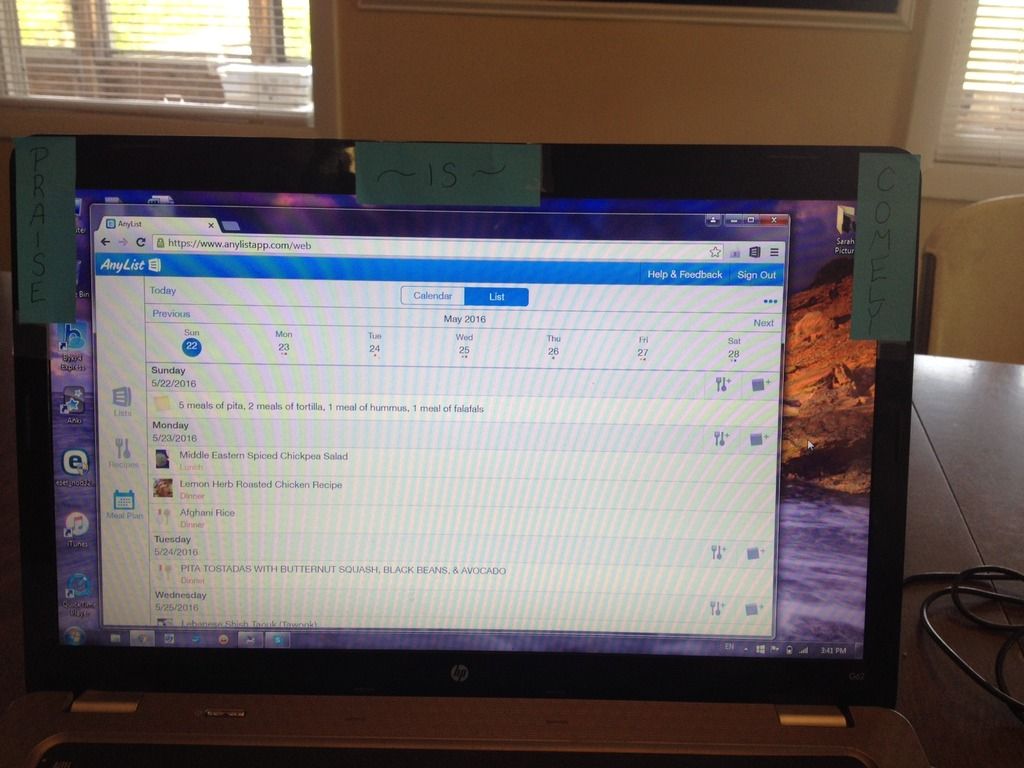 You can see how in the picture I have the calendar with our recipes for this week added to each day. If I want to see what that recipe calls for, all I do is click on that day and the recipe I'm wanting to look at, and there it is! No searching through my recipes to find the correct one anymore!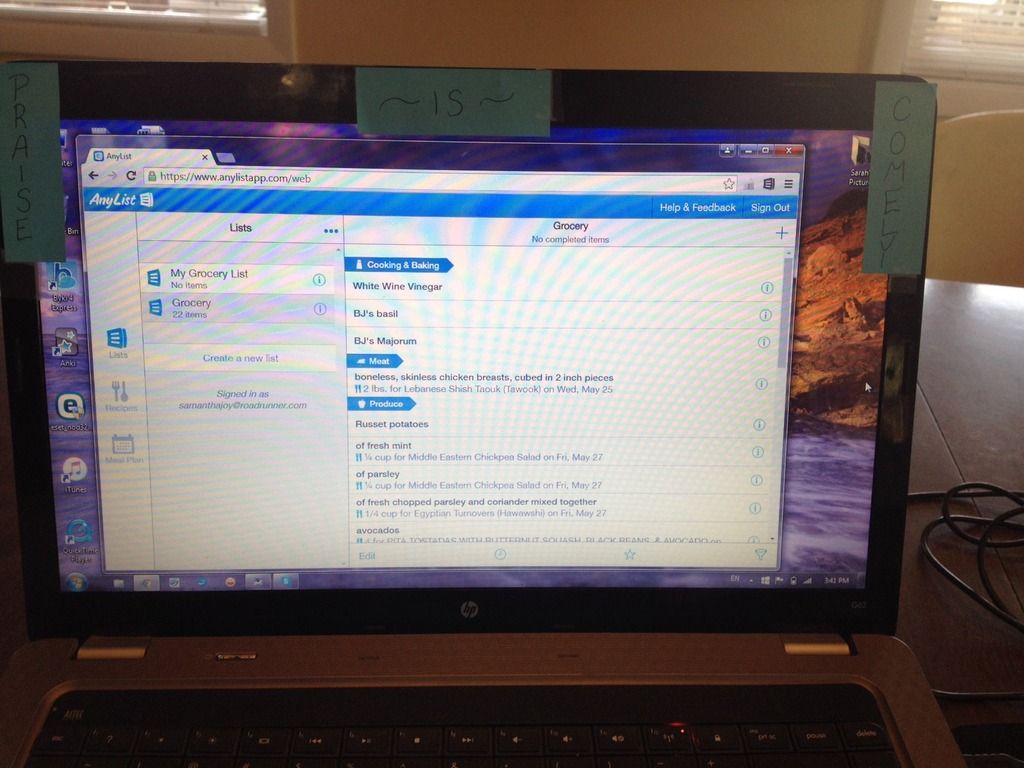 Here you can see the actual recipe with the circles next to them (oh yeah! You can change the size of the recipe and it does all the calculations for you!)…this is where you can click it, and it will add that ingredient right into your shopping list! You can also see the list of recipes (which you can organize into separate categories to keep them all organized, as well as click on the "all recipes" folder to view them all).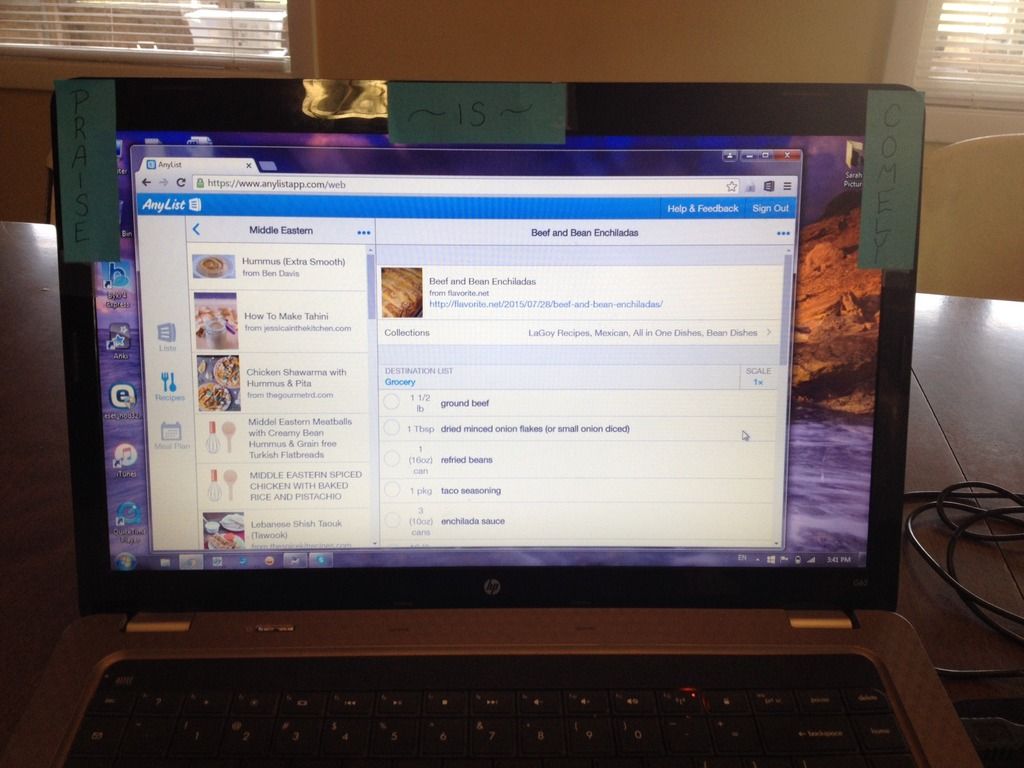 Here you can see the shopping list…yes, it places each in its corresponding area in the store for you, and if it messes up, you can just drag it into the correct area, so while you are shopping, you aren't bouncing all over the store, realizing that you forgot something in a certain area.
Needless to say, this has been a HUGE time saver, it has helped me to be organized, to be able to plan ahead, know what I need to pick up for that week's recipes, be able to make sure things are pulled out of the freezer ahead of time, or prepared ahead of time, etc.! I cannot recommend this app more so! Not to mention that while I have a few minutes no matter where I am, the recipes are at my fingertips, so menu planning on the go is a breeze!!
The second way Yhwh really answered my prayer is, by showing me the blessing of Pinterest! Okay, don't laugh! I know a lot of you have known about this for thing for a long time, but I just never really paid it much attention and just thought it was another thing that would just take up more of my time and be a time waster. I'm not even sure what made me check them out, accept that maybe it popped up when doing a recipe search…I honestly can't remember! But regardless as to how I got going on it, it has been such a tremendous blessing in my life!!!
I knew one of the reasons I didn't like to cook so much was because I didn't really enjoy the food. It's not that it wasn't good, don't get me wrong! It was. It just wasn't the food that I thoroughly enjoyed eating! :o) We have never really been a family that did a whole ton of new recipes, and having it not really be "my type" of foods, cooking became just a "get it done and out of the way" mode for me.
For those who know me, know I absolutely love love LOVE Middle Eastern food! After being in Israel and tasting their food, I was sold!!! There wasn't anything that I didn't enjoy eating! But where do you find the recipes and learn how to cook all these dishes? Yep, Pinterest!!! I started doing a simple search and wow!!! The recipes just kept coming and looked soooooo, sooooo delicious!!!  I started pinning them, then went back and added them to this nifty little "AnyList" app!
After I realized that my family also very much enjoyed these types of dishes (after a few faces that asked "we're going to eat this???" and my reply of "don't comment till you try it, it's delicious!!!!! :o) they asked me to keep them coming!
I then jumped into learning how to create these dishes all the more so…and with absolutely loving the foods, and so thoroughly excited about finally finding the recipes to the foods that I soooo missed since being in the Land, I ended up realizing at the same time, just how much I really, REALLY enjoy being in the kitchen, cooking!! :o) If I could, I would be in here all the time! But since I can't, I try to get in as much as time will allow. :o)
After a week or two of making some of these meals, Mama asked me if I could come up with a two week menu plan, using the recipes I was coming up with. Wow! I had never really successfully done this, and I realized it was a lot more work than I once thought! I sat down (actually, I stood most of the day!:o) at the table, organizing the recipes, printing them off from the app, and putting them in plastic sleeves. She had asked me to come up with both lunches and dinners, so that meant 28 recipes. :o) I realized that I had WAY more recipes than this that I wanted to try, so the trouble for me was, which ones to try during the next two weeks! :o) Then came the chore of figuring out which meals to have when, etc.
Once I figured this all out, the next step was to put ONLY the recipes we were going to be using, in the 1″ menu binder, in the order that we were going to be making those recipes. All the rest of the recipes that I had collected and printed, were placed in a different, 3″ binder. Then I also printed off 2 copies of our menu. One copy went in the beginning of the Menu Planning 1″  binder, and the other went up on the Refrigerator.
The one on the frig I put notes as to what needed to be done ahead of time, so that each night I could check to see at a glance what was on the menu for the next day, and prepare for it.
The one that went into the binder was followed by that menu's recipes. So I would have Week #1 Menu and then all its recipes and then Week #2 and all its recipes.
This kept it all together and regardless as to who was going to cook, they had everything that they needed, right in the binder, which I generally store on the counter.
Then as I made each recipe, I would ask my family if they liked it and if they did, then I would put 3 stars next to it (both menu and recipe). If it was one that they didn't like, I would put a note next to it explaining so. If we weren't able to make a certain recipe due to leftovers needing to be used up (never happens in our family! ;o)), I would put a line through that recipe on the menu page, so that I would know that that recipe wasn't done yet, so I could move it to the next set that I did. It has been such an incredible blessing and I pray that it will be for you as well!!!