Mt. Katahdin
This past week as I was listing to a radio broadcast while driving, they were talking about losing our focus, and what they said, made me really stop in my tracks and ponder what they were saying (and I still am, almost a week later!). They likened life to climbing mountains, how we have the valleys of life, and then the mountain climb experiences, and then the breath-taking view at the top of the mountain, the hike back down, etc. I often relate to life in this way, and so what he said really resonated with me.
He compared how when we are going up the mountains of life (going through the trials and storms of life), we often get so caught up in reaching the top of the mountain, that we lose our focus as to where we are, and forget to look behind us at how far we have come up, and the beauty below us!
For anyone who knows me, knows I really enjoy climbing mountains. I don't get to do it that often, but I thoroughly enjoy it, especially if its not a race to see how quickly we can get to the top of it! :o)
Mt. Katahdin, the mountain that our family generally climbs, is about a 7-8 hour round trip (up and back down the mountain), and just the rock slide that we like to climb at the end of it, is something like a 2000ft steep embankment! Needless to say, it's a good climb up!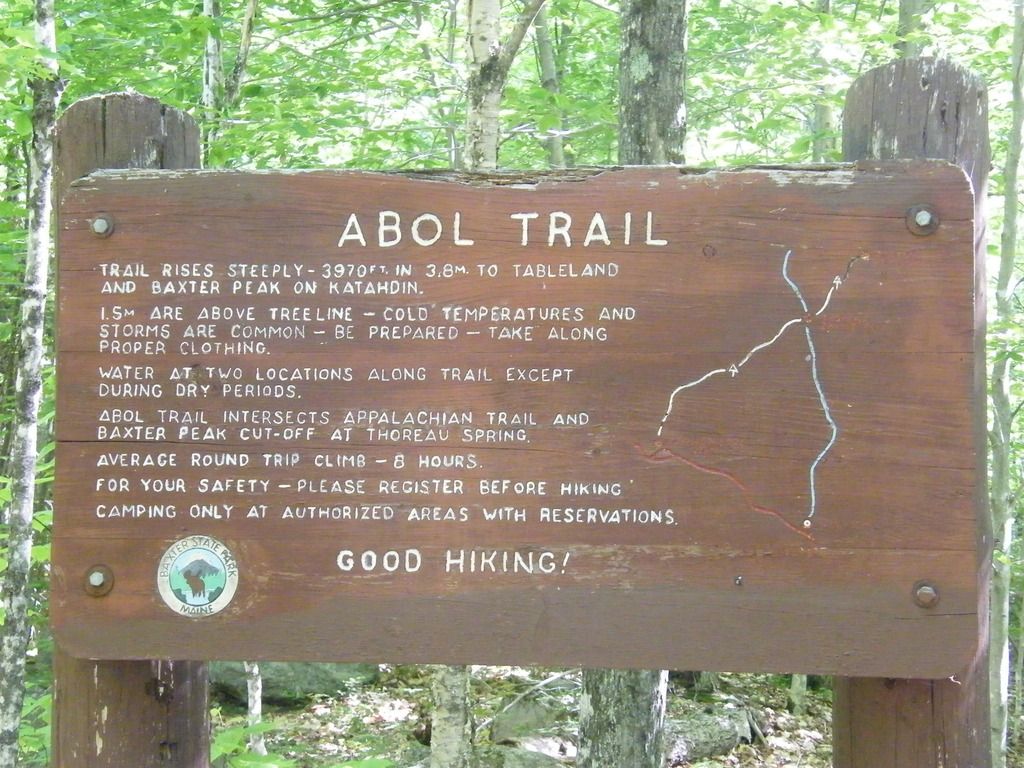 But how many of us, as we hike up, hour after hour, get tired and despair of the seemingly never ending trail still before us, wondering "how much longer till we reach the top?" thoughts running through our heads? How many of us just keep our eyes focused on the end-goal, the top of the mountain, knowing the view that awaits us will be SOOO worth it all, yet never take time to enjoy the mountain climb experience itself (for it certainly is an experience all by itself!)? Yet, if we would only take a deep breath, and turn around, the view that we already have, is outstandingly beautiful!!!
I keenly remember after we had been on the trail for hours, hearing my siblings up ahead of me gasp, as they turned around and looked out over the scene before their eyes! You never quite realize just how far you have hiked up, until you take a minute to rest and turn around, so the mountains to your back…but wow, oh wow!!! Yes, the top of the mountain view is breath-takingly beautiful for sure! Nothing compares to it, I will admit! But even as we clear the tree-line, the view is incredibly beautiful! And it makes us realize just what view awaits you at the top of the mountain! It's a taste of what is to come, and it certainly sends surges of energy through oneself to keep going and not to give up half-way up!
 Enjoying the view part way up the mountain :o)
So you continue to climb, now with a little bit more enthusiasm, full of excitement as to just how far we have come, knowing the end is in sight (even if it isn't quite in sight)! But then, as we reach the 2000ft rock slide, it gives us an illusive type of "we're almost there!" view. I remember the first time up the mountain, how we were all so excited that after such a long hike up, we were so close to the end! But then we climbed and climbed and climbed some more!!! I remember laughing and telling my sister "I thought we were right there at the end!" and she laughed back that she thought so, too! We had no idea just how far from the top of the mountain we still really were! Yet we were so excited, as it seemed like at any minute we'd reach the top!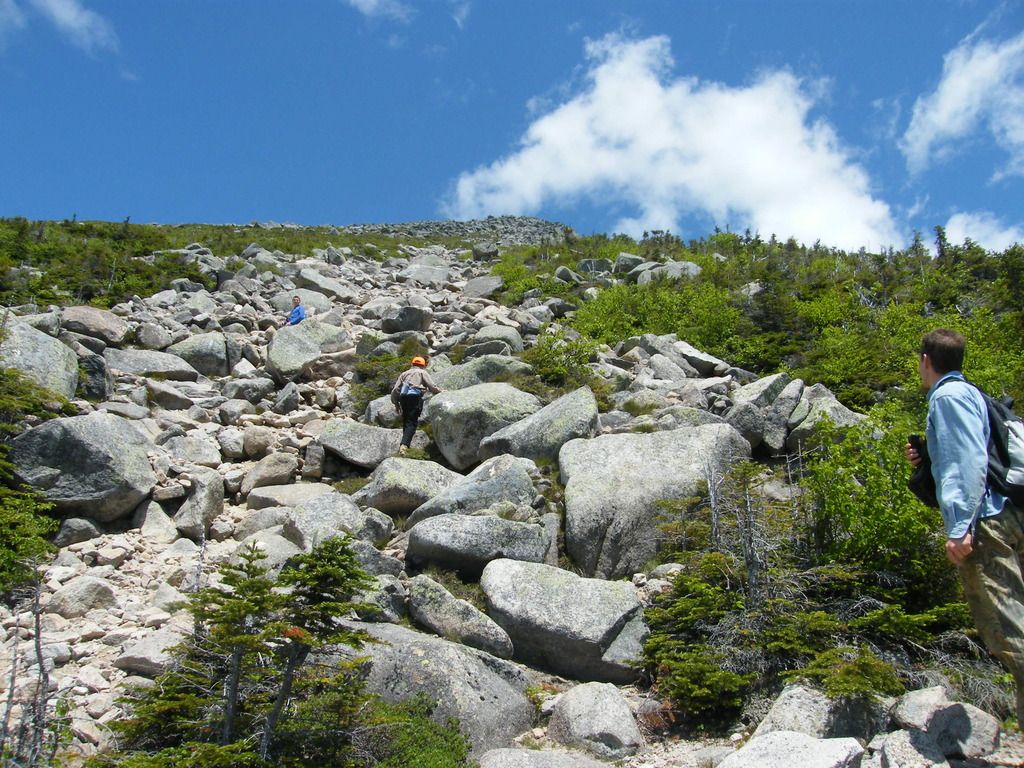 Part way up the rock slide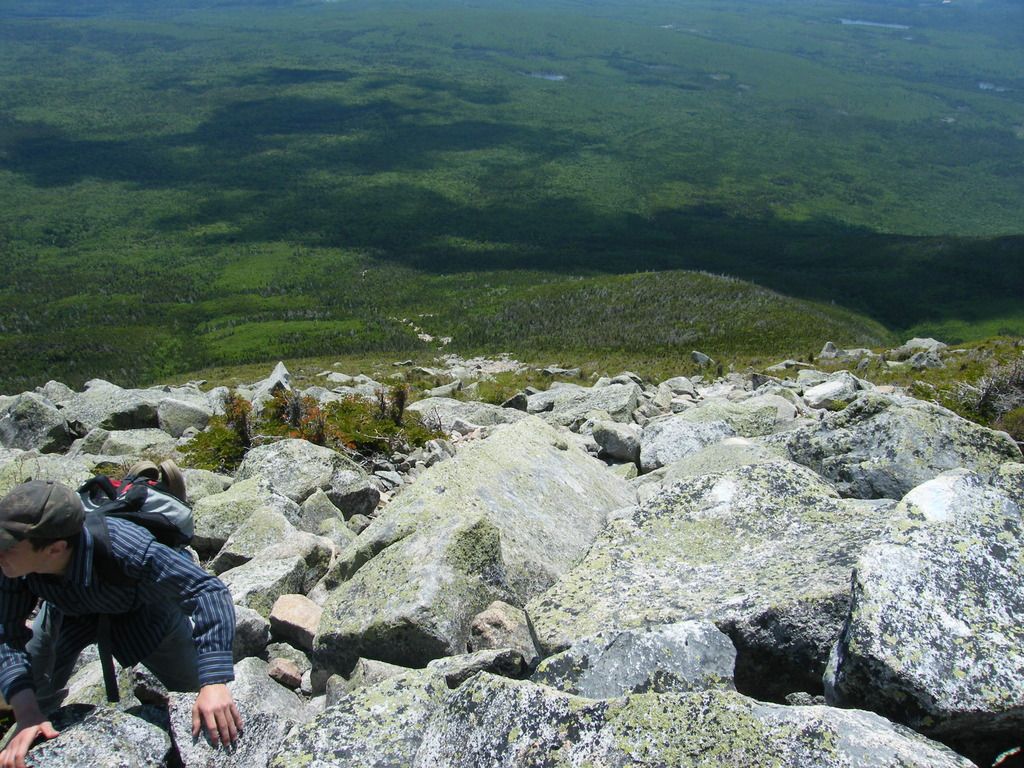 Admiring where we had just climbed…but the climb continues upward (not steep at all, aye? ;o))!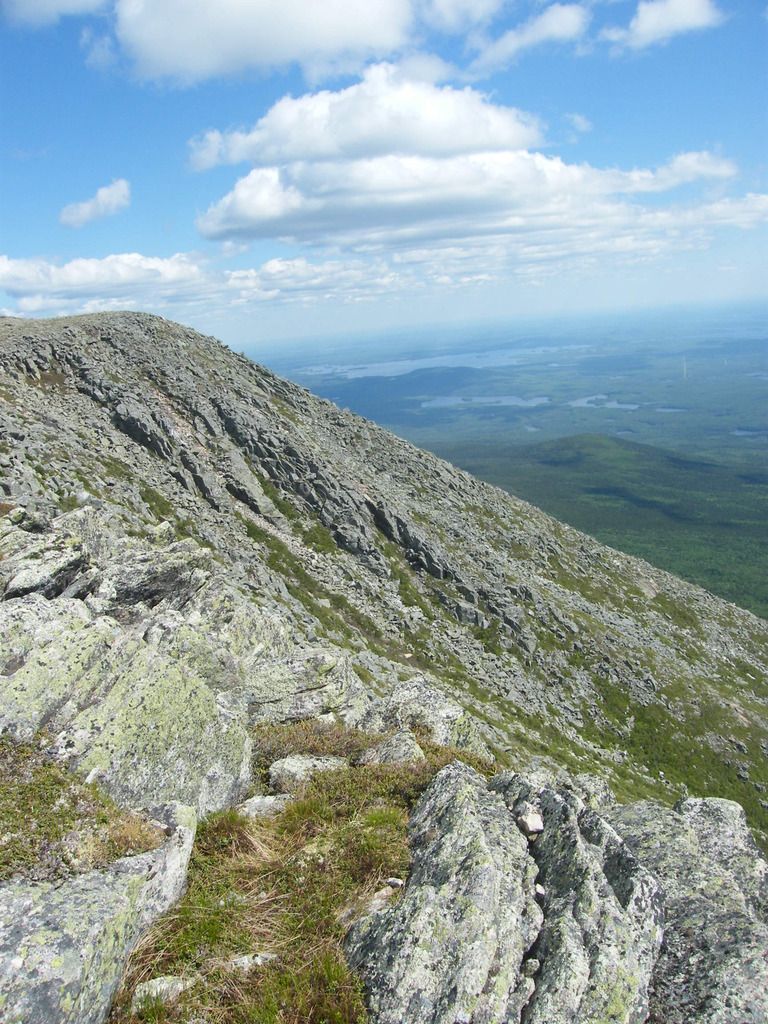 Looking back at the rock slide we just came up…which you hit after you climb the bulk of the mountain!
But then once we do reach the top, all sweaty, thirsty and hungry, we sit down to enjoy the view, to praise Yhwh for such a beautiful creation He has blessed us with, eat, and then we jump up, and almost run back down the mountain!!! The mountain-top experience is such a short lived experience. It's only a fraction of the whole experience, and I dare say, you hardly get to sit and enjoy it. Yes, it is beautiful. Yes, it is absolutely breath-takingly beautiful!! And you can carry that view with you for quite some time afterwards. But still, it is only a fraction of life's experiences. We run back down the mountain, to walk or run across the next valley, why? To hit the next mountain and start the climb all over again! :o)
 The beautiful view at the top!
Isn't life so funny in this way? Yet, as I have pondered this all week, Yhwh really spoke to my heart. Why is it that when we face these trials of life, that we often seek salvation (escape), instead of holiness? We can hardly wait to get to the top, for this set of work and hardships to be behind us, that we lose our focus as to why we are being asked to climb the mountain in the first place…so that we can become more holy (more like Him)! Why do we totally lose the joy and blessing of the mountain climb experience itself? Sure, it's hard work! And sometimes, you just can't keep the tears from flowing! I understand the pain is real. Sometimes, it's hard just to place your foot in front of your other foot! I totally get it! I've been there! More times than I care to admit.
But, think of what it does for us!!! Think about the cleansing work that takes place within our hearts and lives, forming our character to be more like His (and less like ourselves!), and how those climbs purify us of the dross and sin in our lives!!! Is that not what this life is all about, making us holy, pure, and spotless brides for our Saviour and King?
I know this is a totally different view at the trials and struggles we face in this life, but it's so powerful! I stopped and pondered what he was saying. It was all about embracing and learning how to become more holy vs. simply wanting to escape! Is it not totally worth it all, even if they only make us more holy…more like our God? I find myself on my knees asking Yhwh to fill me with His holiness, to make me more like Him, to continue to cleanse me, so that I can become the vessel that He needs me to be! If He saved us from every mountain climb experience, we would also lose the mountain-top experiences! If He saved us from having to face each trial and tribulation we face in this life, would we not also lose the Holiness that we get from each one? Is it really worth the trade-off?
I don't know about you, but I know what my life was like before each one I've had to face, and I know the blessings that I have gained through each one! I am never the same person starting up a mountain, as I am the one coming back down! My life is always so much richer, so much more filled with His love, His righteousness, His cleansing power! I find my relationship with Him growing to deeper and deeper depths, becoming more and more rich with each passing day! It is just so amazingly beautiful!! So as much as I enjoy the mountain-top experience as much as anyone, I am beginning to learn how to thoroughly enjoy these mountain climb experiences with Him, too! For that is where I know the bulk of my growth has stemmed from…and I wouldn't trade that for anything!! I long to become the woman of Yhwh that He can use! If sending me up a steep mountain is what I need to go through to become more like Him, I want to do it with such joy and surrender, thanking Him and praising Him for loving me so much, that He was willing to send me up it!!
So the next time you find yourself climbing a mountain, wondering when in the world you will ever reach the top of it, try turning around and looking at just how far up your God has already taken you!!! Look out at the beautiful view you already have before you, and let it encourage and bless your very heart! Sit down and rest by His side, looking out at this beautiful scene He has prepared just for you! Think about the work He is doing deep within your own heart and life, and instead of asking Him why in the world you have to climb such a steep mountain, begin to thank and praise Him for being there with you, helping you, cleansing you, and creating you into the beautiful vessel that He needs you to become! Ask Him for His holiness, not for a way out of the experience. Embrace all He has for you, all He longs to show you, and to teach you along the hike up! Yes, thank Him for allowing you to have this mountain hike experience with Him!!! For we are climbing these mountains with Yhwh Almighty!!!!
I'll leave you with this song which I heard this past week. The words were so encouraging to me. Whatever mountain you are facing, no matter how high of a climb you are being asked to climb, remember, there is NO mountain, that our God is not bigger than!!! None! Zero, girls! Not a single big one of them is bigger than our God!!! That ought to encourage you!!! You serve an amazing God, and one that loves you more than you will ever truly realize!!! Bask in His love and His holiness!!