On a beautiful journey I will forever hold dear to my heart!
Shalom my precious sisters!
I know I have been unusually quiet around here recently, and although I have so much running through my mind that I would love to share, things have kind of taken a turn recently that I wasn't expecting and yet, didn't really come as that great of a shock, either. But through it all, there has been a great amount of adjustments that have needed to take place and just a lot surrounding the recent turn of events in my life. This is likely to be a long post, but I pray it will be a blessing, nonetheless.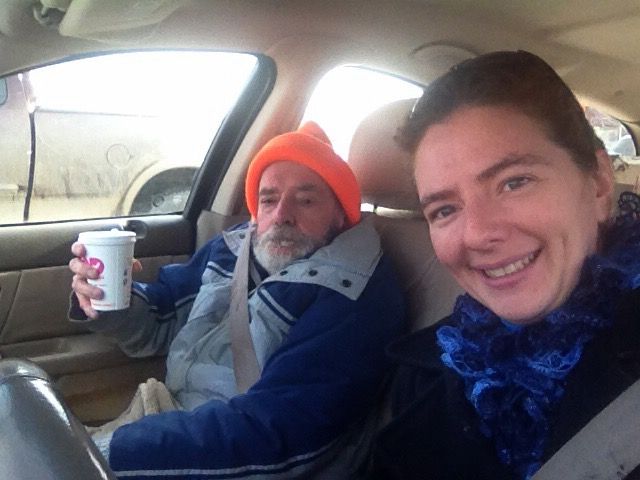 Some of you have probably heard, that my precious beloved grandfather, with whom I have been caring for for the past 3+ years, recently passed away. On July 2nd while I was feeding him his lunch, he suffered a bad stroke. That began one of the hardest, and yet one of the most precious, weeks of my life! This post is about our week long journey.
I somehow knew as I laid him down that afternoon, that I was losing him. Little by little. With tears streaming down my face, I lovingly changed him, wondering how many more times I would be gifted with such an ability? I tucked him in, kissed him and told him once again how very much I loved him. I knew he was tired and worn and needed rest, so I left him to take his nap and headed out for a much needed walk (he was stable by this point).
Some wondered if he would recover, as he has when he suffered from strokes in the past, but I just sensed Yhwh telling me that my time with him was coming to an end. By this point, I knew he had lost his entire right side from the stroke. What I didn't yet realize is, that he had also pretty much lost his ability to swallow.
I went for a walk and just let the tears flow. As much as I had known that my time with him was drawing to an end for a while, and as much as people tried to encourage me to prepare myself for this next season of my life, I thought to myself "how can I?"? There is only so much one can prepare oneself for. As much as you know it is coming, there is almost no way to prepare yourself for such a loss. I loved him more than words could ever say and I have to admit, I felt unable to embrace this next season. I called a precious friend and explained what was going on. At first she tried to encourage me that things may get better, but when I told her I just felt like they wouldn't, she agreed. We prayed together, cried together, and she just encouraged me to just rest in Yhwh through this time. She shared with me how things were changing not only in his care, but how I needed to help him through this last part of his journey. It's a beautiful time, as much as it is also a hard time. But she encouraged me to be strong in Yhwh and help him through this time, as he sincerely needed me there by his side.
As I walked that afternoon and just wept, I felt at a loss. I wanted to embrace whatever Yhwh had in store for me, and I knew this chapter would have to close one day, but I honestly did not feel at all ready to accept what was happening. But as Yhwh and I walked, cried, and talked together, I realized He wasn't asking me to walk this road alone. He was going to be right there beside me. Yes, it was going to be hard. But Yhwh needed me to be faithful and to help my grandfather through this part of his labor here on earth. How could I help him prepare for what was coming? How could I love him through this part of his life, too? I had to lay aside my own longings to hold on, and help him prepare, and eventually, let go. By the time I got back, I felt worlds better. Yes, it was still hard. Yes, the tears still flowed here and there. I'm not trying to minimize how hard it is or was. But Yhwh had given me a strength and a peace that I can only praise Him alone for! And for all those who were praying me through this time, I can not tell you how much I appreciated and needed…and felt them all! Thank you for holding me up through these difficult days! There were times, like in the middle of the night, as I was alone by his side, that I felt surrounded by them. Times when I felt like I couldn't stay awake any longer, and would then get another surge of strength to press on, that I couldn't even explain. Never, ever, underestimate the power of prayer! Yhwh does hear and He does answer them! So thank you a million times over!!
Within a short time, everyone soon realized that this chapter of our lives, was closing. Little by little we realized we were losing him.
When I got back and checked in on him that afternoon, I could tell he was trying to understand what was happening. He rubbed his right arm and hand, trying to figure out why it wasn't working. He couldn't open his eyes at this point, but he was still very much "there". I leaned down and kissed him. I picked up his good hand and asked him if he could hear me, and he squeezed my hand in the affirmative. I tried to encourage and comfort him and explain what had happened. I knew he absolutely loved being with the family, and so I asked him if he would like to go out to his recliner to be with everyone? He squeezed my hand and so I began the process of moving him back out to the living room to be with us. I sat beside him and just held his hand. I tried giving him fluids, but could hardly get him to take even a swallow. Tears burned my eyes once more. Each step, although you know what it means, it is still a step of needed acceptance. And sometimes, acceptance, hurts. Being strong and helping them through this, isn't easy. But I squeezed his hand and let him know, it was alright.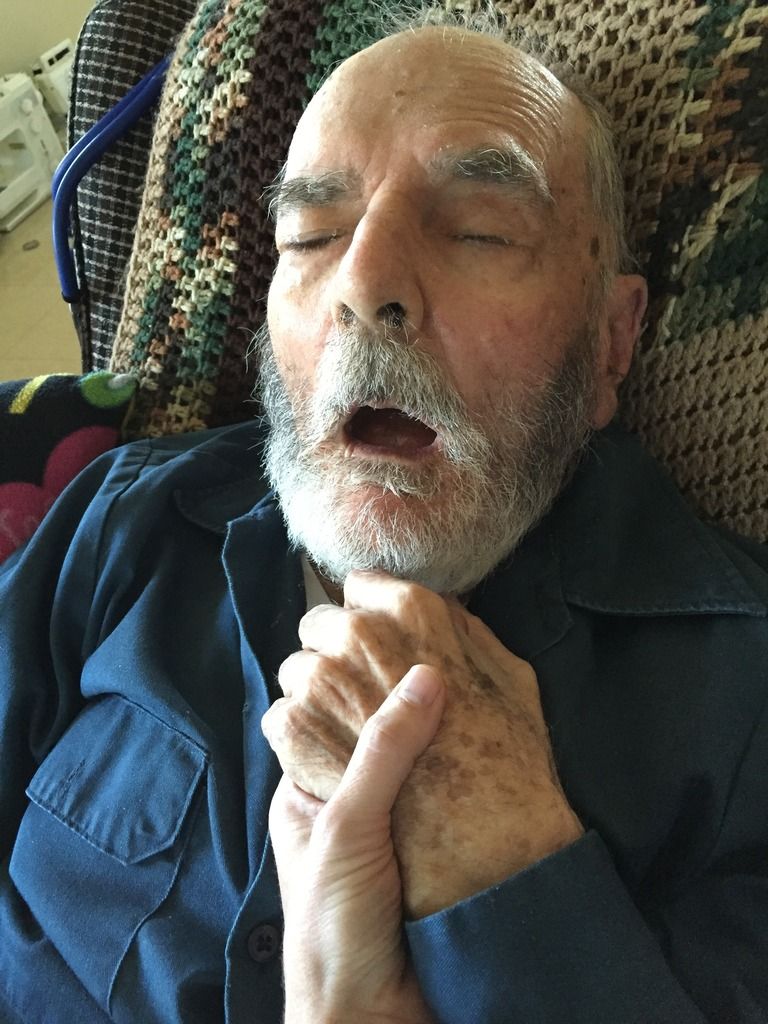 Each day, brought new changes. I knew the next day, that we had reached another turn in his care. He could no longer get into his daily clothes. Again, I just had to cry. Accepting the fact that I had just dressed him for the last time. Crossing each threshold wasn't easy. But as he crossed each one, I also had to cross them and embrace each one of them. Being flexible, is a must. Flowing with them, is a must. This wasn't my journey, it was his. And I had to flow with him, and not fight against each new turn of events. Is it easy? Never. But sisters, it is needed! Like a laboring mom, you have to flow with her and her labor, and help her as her needs change. Yhwh knows just what kind of labor she needs, and the same holds true for our loved ones at their journey's end.  Their needs are ever shifting, ever changing, and it requires you to be totally tuned into them and help them accept those changes.
It really taught me one thing…well, a lot, really. But one main thing was, just how short life is and how we can not take things for granted! Do you know how many times I have dressed my grandfather through the years? Yet, I never really thought much about it. I would go into his room with a greeting and smile, ask him how he slept, and we would chat as I did his morning routines. But then one day, I no longer got to see his smiling eyes or got to hear him tell me all about what he had done that night. :o) As I slowly (and sometimes very quickly!) lost things and I realized what a gift each one had been. I began to treasure even the "small" things. When would he stop being able to squeeze my hand? When would I lose one of the only things I had left…his hand? When you start to lose things, you realize just how precious each thing really is! What a gift life is!!!
My biggest prayers had been his salvation, his comfort and keeping his room as peaceful as I possibly could. I wanted this to be a beautiful journey for him, not a stressful one. I would pray with him, read to him, sing to him. The whole time, he never let go. He wanted to hold someone's hand the entire time. People would often ask me if I wanted a break? They could take a turn letting him squeeze their hand. As much as I knew some needed that time with him as well, it was hard letting go. He could communicate so much through that hand…and I knew the minutes were exceedingly precious.
I began to put essential oils on his feet (peace and calming, stress away, and panaway) and had the diffuser running pretty much around the clock with Frankincense and Lemon. The lights were dimmed and soft music played in the background on my phone using Pandora. He was so peaceful and calm (as well as comfortable) and I knew my prayers were being answered! When we realized we needed to get hospice on board, each time someone showed up to check in on us, the comments were the same. They walked into his room and exclaimed "whoa!!! wow!!!! It is SOOOO peaceful in here!!! He looks so comfortable and peaceful!!!" I had to thank Yhwh over and over again for this gift! I was so thankful that this hospice team totally allowed me to care for him and call the shots. They were there to help me with what I needed help with and get me the things I needed, not take over. They were such a blessing!!
At the beginning of our week long journey, I had prayed and asked Yhwh what book I needed to read to him from scripture? Which one did he need to hear from the most? I really felt Yhwh tell me I needed to read Psalms. Psalms???? My thoughts were John or another similar book…but this is why we MUST seek the Father's wisdom! He knew. So I began reading Psalms each day that I could. And I could tell, Yhwh certainly knew that this was what my grandfather needed to hear.
At one point in the week, I asked him if he was doing alright with it all? He squeezed my hand in a yes, and brought it up to his lips and kissed it, before laying it back down again. There were precious moments like this throughout the week and times I will surely treasure my entire life.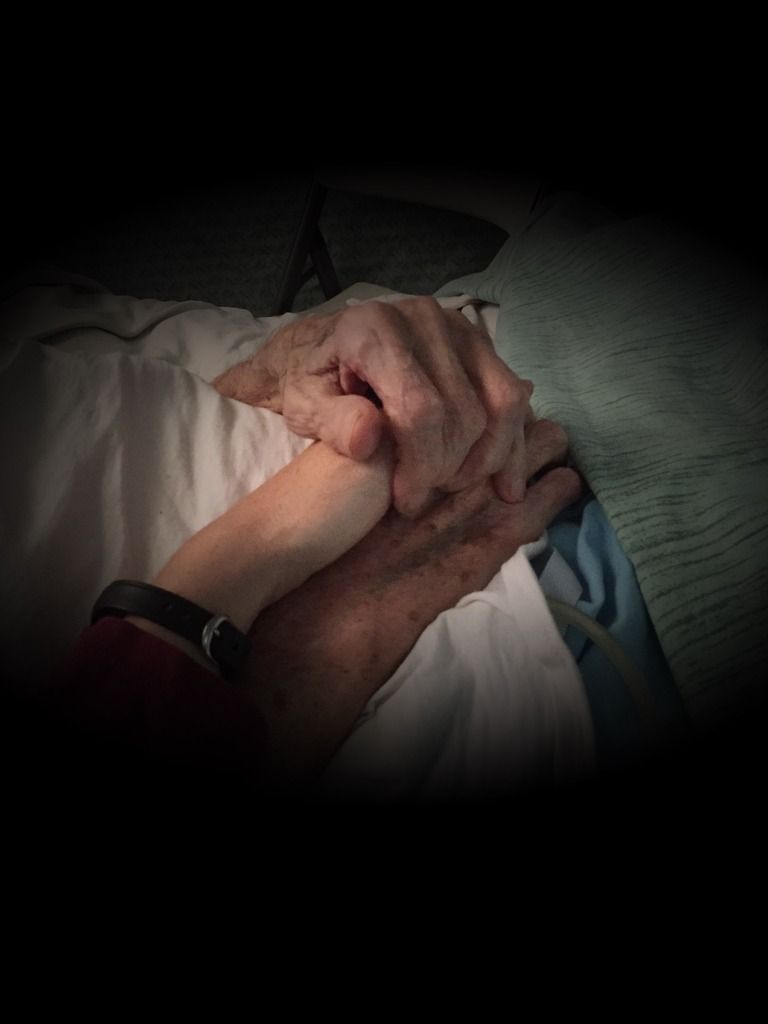 Another time was when he took my hand in his good one, laid it over his paralyzed one, and covered it again with his good one and just held my hand between his, or just softly rubbing his thumb over my hand. Yeah, he knew how to make me cry that week! It reminded me of a time I was caring for Elizabeth and was just having a hard time because she was having a hard time. physically. As I sat her on the side of her bed one night she just wrapped me in a big hug and held me tight! Here I was supposed to be comforting her in her pain, and here she was comforting me! It was often like this with Papa a lot, too. Yhwh knew I needed these moments with him. It was a gentle letting go for the both of us.
It amazes me how much Yhwh cares and how He holds us through times like these! Through the week, I had hardly gotten any sleep. As hours became days, I was beginning to become exhausted. You learn to doze in some strange positions (and thanks to laboring moms, I could!), waking as he stirred and needed my full attention. But to actually go lay down for a couple of hours…it was an almost impossibility for me to do after the first couple of days.
Come Thursday night, I was beyond exhausted and just felt like I couldn't go on. I just couldn't stop the tears from flowing. It's not that I hadn't tried to sleep. But I knew my grandfather's que's and I just couldn't shut my mind down to sleep. I couldn't bare the thought of sleeping when he needed me so much. Even at labors, it is exceedingly hard for me to "check out" and rest. I just have an exceedingly hard time doing this. It's like my mind doesn't shut down. You stay tuned in…do they need me? Are they doing alright? Well…it was the same way here. When I would try to sleep, I would usually wake a very short time later, with a start, unable to let my body just relax and rest. But by Thursday night, I was reaching a breaking point. As I was being faced with decisions that night (as preparations for his funeral were undergoing), it almost seemed impossible to face them. Mom lovingly looked at me and told me I needed to get some rest, or I would not be strong enough to face what we all knew was coming. I agreed. But I just couldn't. I had tried earlier to lay down for a little bit, but I just couldn't sleep. So I left him in my family's care and went and got a much needed hot shower and just prayed that Yhwh would give me the needed strength I so desperately needed. That night was such an answer to prayer. It proved to be a hard evening until midnight as I battled with making him comfortable again (flowing with his ever changing needs), but after midnight, he finally was resting comfortably again and able to get into a deep sleep. My sister took a turn sitting beside him with a stack of pillows on the edge of his bed to rest on, while still holding his hand, and I stretched out on his floor. For the first time in days, I was able to get a good few hours of sleep in-between checking on him and attending to him, as needed. I laughed as I laid down and told my sister, that I didn't have to check on his respirations (you can tell a lot by a person's respirations, especially when they can't talk to tell you what is going on!), as I could count his respirations from the floor with his snoring! Okay, you girls, snoring IS a gift!!!! It was music to this girl's ears! After I had worked for hours to get him settled comfortably, he was sleeping the soundest and deepest sleep he had gotten in a long time. And because of this, I was finally able to also sleep.
Somehow I knew that night, that things were about to take a turn. It was like Yhwh was preparing us both and strengthening us for the turn ahead. The next morning, I woke and felt worlds better and worlds stronger! I just had to thank Yhwh for His grace and strength and I never realized how good even a couple of hours of sleep could feel!!! Both my grandfather and sister were sound asleep, so I headed out to the kitchen, grabbed a cup of coffee and some breakfast and sat at the table for the first time. I wasn't halfway through when I heard my sister call for me. I knew.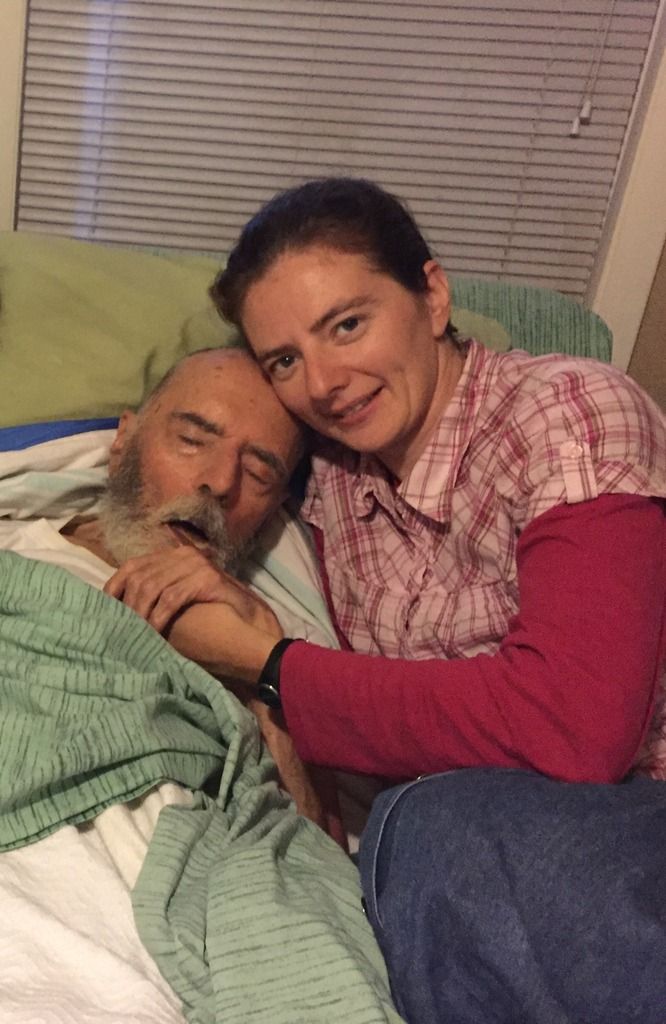 Through this time, as hard as it was, the peace Yhwh had given me, was incredible and I am so thankful for it!! I walked in to hear "he's not breathing, Lol!". I came by his side and assured her it was okay. I touched his shoulder gently and called his name. He had been having apnea sessions off and on through the week, but nothing regular, and since nights were usually our harder times, most of the children had never seen him have these episodes (although she had once before). I knew we had now turned the corner when this would become the norm. After a short time, he took a breath. What a heavenly sound! Breathed for a couple of minutes, and stopped again. She looked at me. I assured her, it was alright. I just held his hand and comforted him through it.  Just like with a laboring mom, you hear what we often call labor songs (the mom's making sounds through their contractions).  I explained this was all apart of the process, but these noises could be hard to listen to and would very likely get louder as the time went on. He was alright, he wasn't in pain, it was just his tissue relaxing in the back of his throat. But regardless, it isn't easy to listen to, nor is it easy to watch his breathing come and go. I looked at my precious sister and aunt, who had now come in the room as they just watched on holding their breaths, and lovingly told them they did not have to stay and watch this if they didn't want to. I wasn't telling them to leave, but I knew it would only become harder to watch.
It was part of the end of life. It was completely normal. Just as a laboring mom's breathing patterns change, so do theirs, throughout the entire process. He was nearing the end of his labor here on earth, and once again, his breathing was changing. Think about the pushing stage. A mom's breathing patterns change throughout her labor, and when it comes to the pushing stage, they will often hold their breaths for a while, and then breathe, do it again, etc. I had learned by this time that the end of life is SO SO SO similar to a mom in labor! It is beautiful and nothing to fear, but just as it is hard for some to go through a labor with others, it is equally hard for them to simply watch at this stage in life, too.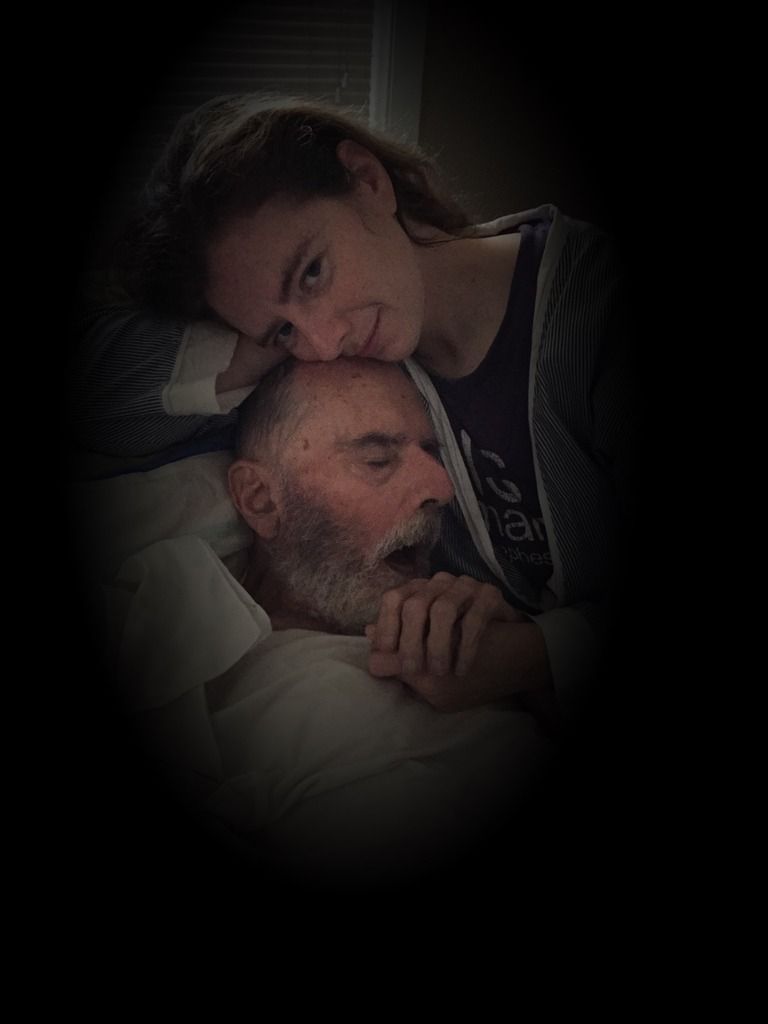 After a little while, they leaned down and kissed him and left the room. This would become the new norm. People told me this stage could last for quite awhile, but I had no idea how true that statement was. It can and it did. Throughout the day and into the night, people would come and go. Some sitting with us a while, others just to come in and check on us. His apnea became more and more regular, with shorter times between them. But then something strange happened Saturday morning! The apnea stopped! His breathing took on a different pattern, but the apnea completely stopped. I asked if this was normal? No, but then again, Papa had never followed the books, either! :o)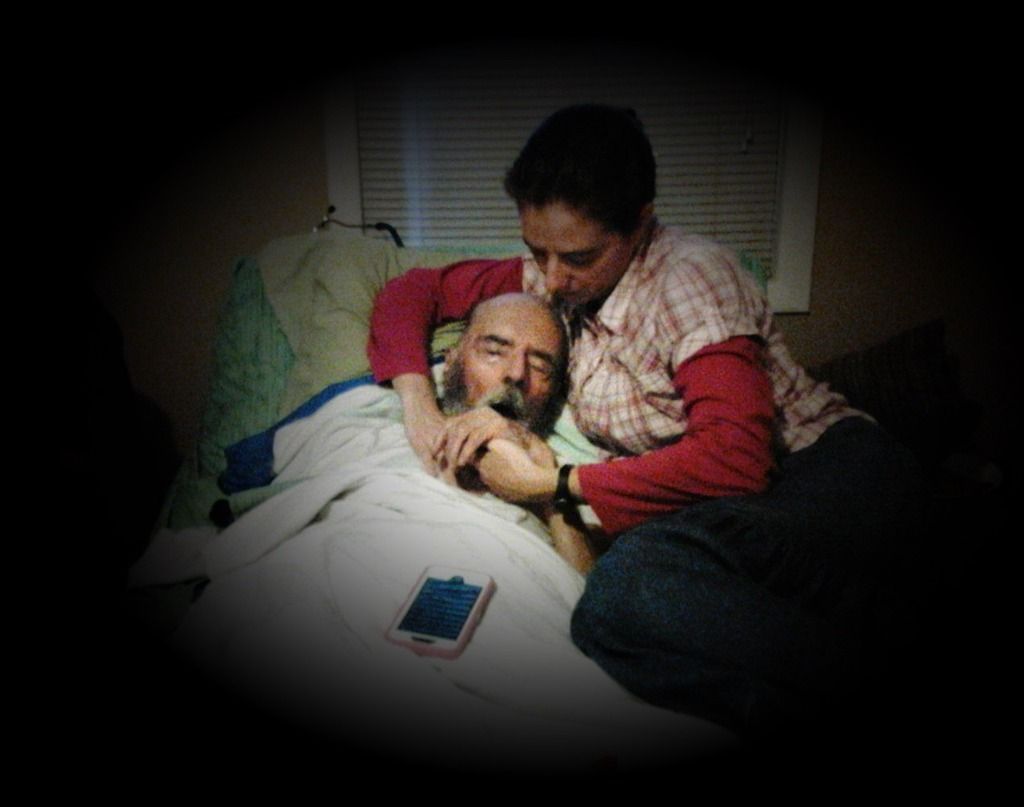 Also, another amazing praise! We're not sure if this was because of the oils, or what, but my grandfather's feet stayed warm and his coloring stayed good! Even after over 24 hours of constant apnea sessions, his feet (which are one of the first to change color), stayed warm and pink! And this is something that made me laugh, and I'm sure it will make you laugh, too! For whatever reason, I am usually cold. I have yet to go swimming this year, as I simply have not been hot enough to convince myself to get in that freezing water! My hands and my feet are well, pretty much cold all the time (I know, I know…). I still wear a sweater on some mornings. My grandfather used to tell me how cold my hands were, and would often warm them up in his, telling me that he would get them warm for me (which he did, as his were usually hot!). But one time as I came back to take my place at his side, I handed him my hand and his reaction was priceless! He quickly pulled his hand away in a gasp and in shock! I laughed and told him I was so sorry! I couldn't help it, my hands were just cold! I had even tried to warm them up before taking his! He decided once more that he would warm them up for me…but this time he kept the blanket between our hands, as he rubbed my hands to warm them back up! I just laughed and laughed and told him I didn't blame him one bit for that one! :o)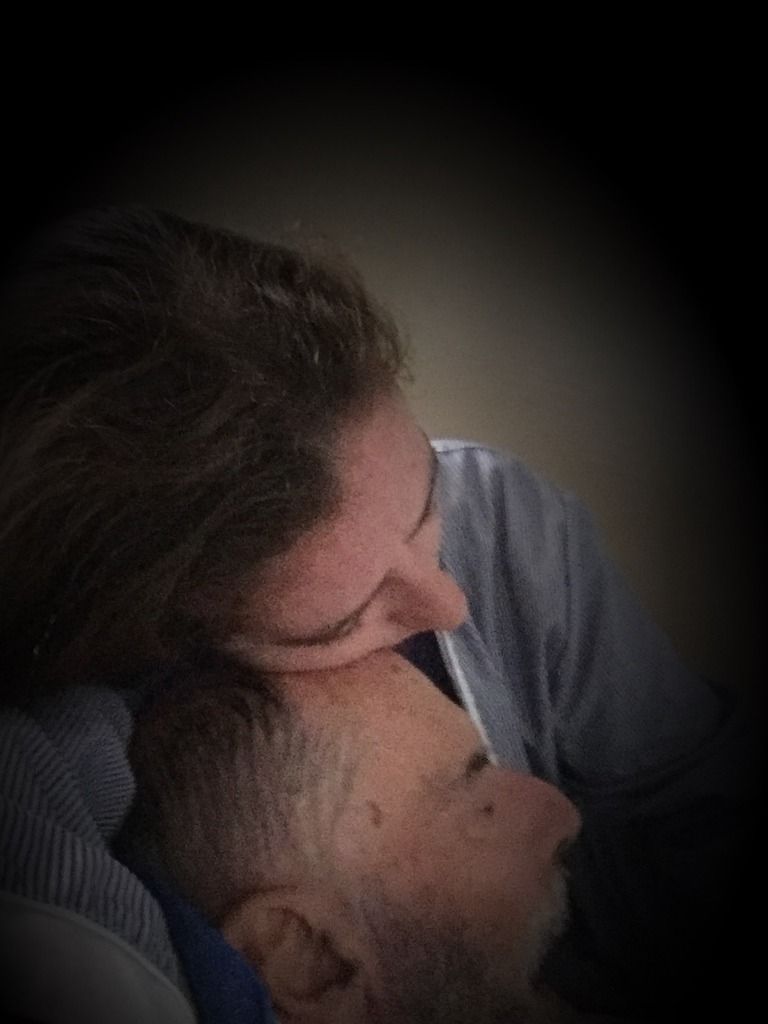 As family arrived here and there, we would have to break from reading our Psalms, but as Saturday morning came around, we were only on Psalms chapter 67 or so and I really felt Yhwh tell me I needed to get to Psalms 100! So we read…and read…and read, regardless as to who came in or out, of our room. I could tell he enjoyed it and it not only ministered to him, but to myself, as well. Although he had not been able to squeeze my hand for a couple of days by this point, when I reached Psalms 100, mere hours before he left us, he squeezed my hand one last time. It was as if he was trying to thank me and let me know he appreciated it. I think we both knew the time was drawing closer and closer to the end. I rested my head on his and just thanked him once again for allowing me to be with him through this journey and thanked Yhwh once more for blessing us with him over three years ago! And at 5pm, July 9th, surrounded by family (with more in the other room), he left us, peacefully and comfortably.
All of a sudden, the week seemed to have been a blink of an eye. On one hand, it was long and hard. On the other hand, it seemed to have gone by much, much too quickly. I miss him more than words can say. I still go to the table and look to my left where he always sat. The empty place at the table says it all. The month leading up to his death, he would often ask me "Aren't you tired of taking care of me?" and I would lovingly tell him I loved caring for him, NO I wasn't tired of caring for him! But as he began talking more and more about death, I knew he realized his time was drawing to a close.
Through this week, I would often tell him the same and thank him for giving me this immense privilege and blessing of caring for him! I always knew I would miss taking care of him when he left us, and nothing could be truer. Yes, there were some days :o) But sisters, I share all this to share with you, it is an immense privilege to care for our grandparents! Yes, walking through their journey at the end of life is not easy. I'm not going to lie to you. There will be tears. There still are tears. But that's not a bad thing! I am actually in the middle of writing a smaller book on this very thing. People fear death, like they often fear birth! You talk to people who work in different areas of a hospital and what do you hear? If they get a pregnant mom in their ward, the first thing they want is to get her out of it! Why? Birth is such a precious and beautiful time!! So why this reaction covered in fear?  I have learned a lot of it is simply due to a lack of knowledge. They don't know what to expect and so they are fearful of the unknown.
You talk to people about sharing this stage in someone's life (the end of their earthly labor), and once again, people fear it like the plague! They no longer see the beauty of it. They don't know what to expect and they fear the unknown. They don't know how to support others through this stage in their life, so they run from it, or they become so filled with fear. It's like having someone at a labor and birth who have no idea how to support the mom going through it. So instead of it being a peace-filled, beautiful time in their life, it ends up being filled with anxiety and fear. One of the things I am soooo thankful for, is that I had friends who I could call or text and say "okay, this is what's going on, is it normal, and what should I do about it?". Like I usually do for my laboring moms, they now did for me. "Yes, this is normal. This is what is happening "_". You're doing great…keep it up!" Having people who could answer my questions, was immensely helpful, because that helped me be able to flow with my grandfather's ever changing needs and helping him to realize that this was alright and nothing to fear!!
It is just as much a part of life, as the birthing process is! It is just another season, but sisters, it is a season we all must go through! Yes, like labors, it may be very quick and fast, at other times, it may be longer and harder. But it doesn't make one any less normal than another…and like with a labor, no matter how quick or long it is, there is a process that has to take place. There are steps in this process that generally must be crossed by one and all. This is something that I had not realized. But it makes perfect sense! As your body shuts down, there will be things that happen along with that. Just as you must dilate to 10+ to birth your baby, so must we cross certain thresholds in death, too. And this is what I would like to impart to each of you….what I learned through this process.
The one thing I heard time and time and time again was "I didn't realize death was a process…no one ever talks about it and the movies just proclaim it to be like it happens instantly." And unless it is death due to unnatural causes, usually, death does not happen instantly. It is a labor and it takes time. But sisters, it is beautiful, too. Sad, hard, but beautiful! We need to desperately change our views on death!! Our views are so wrongly warped and contorted! Yhwh created death, as he created life. The question is, are we prepared for death? It will come. It is only a matter of time. But for each and every single one of us, it will come! But again, the question comes down to, Are you prepared to die?
Job says in Job 7:1, "Is there not an appointed time to man upon earth? are not his days also like the days of an hireling?" Ecclesiastes 3:1-2 goes on to say, "To every thing there is a season, and a time to every purpose under the heaven: 2 A time to be born, and a time to die…" and again in Hebrews 9:27 we see, "And as it is appointed unto men once to die, but after this the judgment:"
Again, let me ask you, Are.You.Ready.To.Die? Romans 6:23 explains that "...the wages of sin is death; but the gift of God is eternal life through Yahshua the anointed our Lord." 1 John 3:4 goes onto to explain that "Whosoever committeth sin transgresseth also the law: for sin is the transgression of the law." So we see that if we transgress Yhwh's law, we sin, and if we sin, the wages of sin is death!!
BUT, Yhwh doesn't just leave us with no hope! Luke 13:3 says, "I tell you, Nay: but, except ye repent, ye shall all likewise perish." and we saw in the above verse that Yhwh tells us that the GIFT of eternal life comes through His Son, Yahshua! In Romans 10:13, we read "For whosoever shall call upon the name of the Lord shall be saved." Sisters, if we do not repent and turn from our sins, and ask Yahshua to save us (and make Him our Lord…in other words, choose to obey Him and follow His ways), we will die and spend eternity separated from our God! Whom will you serve? But as for me and my house, we will serve Yhwh! HalleluYah!