Hello all!
I hope this week finds you enjoying the beauty our Heavenly Father and Creator has made and blessed you with. 🙂 I was thinking about things that Yahweh has blessed me with and my heart becomes so overwhelmed and filled as I think about family and friends who are as family, the best in the whole world! 🙂 Another is the snow. 🙂 We have been under a blanket of snow for the past…three months? I can't remember when it was that the ground wasn't covered! Lol. I almost took a picture a couple weeks ago, as we were getting warmer weather and a patch of ground under our snow fort door melted, revealing green grass! 🙂 The snowflakes, sliding down a hill in our woods on my coat because of the hard, thick icy coating under a couple of inches making a nice slide, the fresh fallen blanket of white snow coating the ground, the millions of sparkles, bright moonlit night…so many things to be thankful for!!!!! 🙂
I've realized that a nice denim jacket can be soo warm and comfortable! It is really my all-season jacket as it is warmer in the winter, yet, somehow just perfectly warm yet not toasty, in the cool summer evenings. I guess it just helps to regulate the heat as I can wear it indoor and outdoor without becoming too hot or cold. 🙂
Anyway, here are a few pictures of an outfit I wore a few weeks ago to the vets, and then indoors as we played games as a family. I realized just how incredibly comfortable and nice to wear that it was, and decided to go ahead and get pictures to post here. 🙂 Here they are!
The jacket was given to me by friends in Tennessee
The blouse, I bought for a few dollars (I think) at our thrift store
The long sleeve T was given to me by Samantha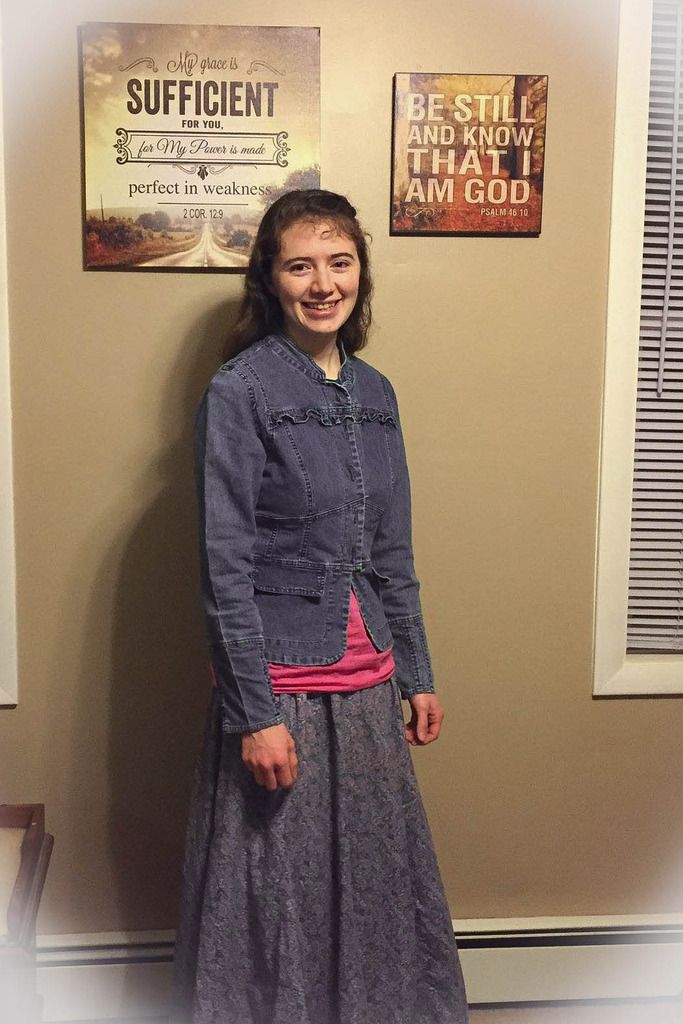 The skirt is handmade and was also given to me by Samantha
The boots were a $8 thrift store find for my birthday gift, also by Samantha!!! They've lasted me quite a while as they were given to me in June, and I have worn them often since then, yet there is still little wear appearing. They are fake leather, so they're a little too warm in the summer at times, but I like them a lot! 🙂 I've worn these boots to a wedding, sabbath gatherings, vets and family farms and they've worked well for each. 🙂
I love my sister and being the next gal to her size in the house!!! 🙂 Thank you Lolly!!!
Here is a picture without the jacket…
I put my bangs up in an inside-out French braid, also called a Dutch Braid and pinned the braid back with a plastic claw.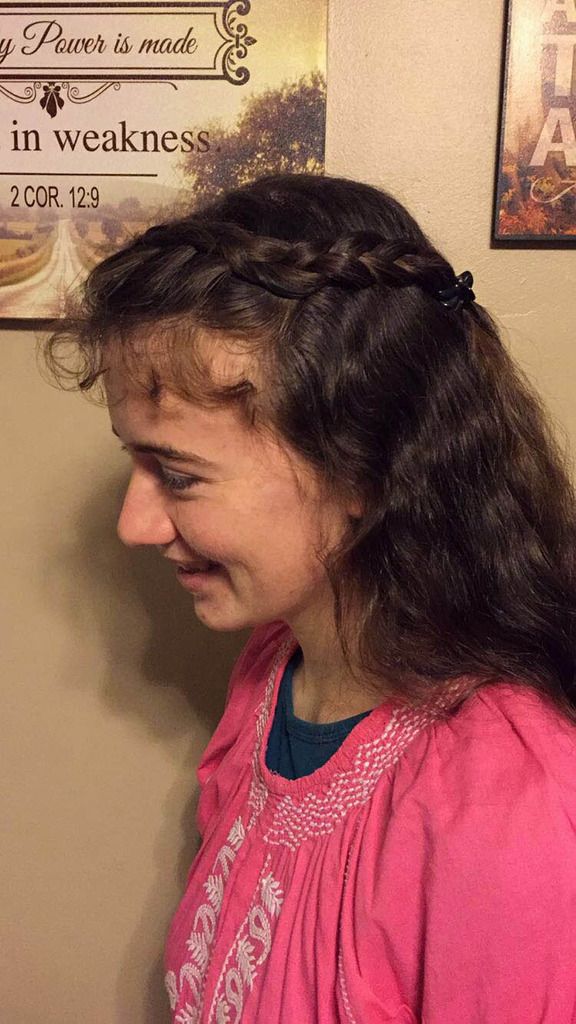 There it is! 🙂 It's been a long time since I've done an outfit post. I hope you enjoy!!!
Sarah